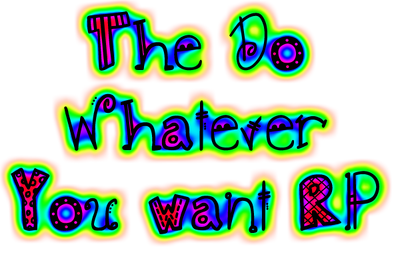 This is the wiki for The Do-Whatever-You-Want RP! Here we have all the information about the Characters, Objects, Etc. If you wish to join The Do-Whatever-You-Want RP, then head on over to MySims Wiki and join there, or follow this link to go directly to Part 1 of the RP, where it all started! Follow this link to go to Part 2. Enjoy!
Coming Soon!
Coming Soon!
Coming Soon!
So, what is The Do-Whatever-You-Want RP?
Edit
The Do-Whatever-You-Want RP was created by Iona123 on the the 10th of February, 2012. From then, it has currently involved five different users, loads of characters, and a mega amount of fun! There is no actual theme for the RP, hence the name, so we often find ourselves jumping from area to area doing several different activities and Role-Playing several different plots. We also serve cookies!

HAVE FUN!!!!!!!!!!!!!!!!!
Ad blocker interference detected!
Wikia is a free-to-use site that makes money from advertising. We have a modified experience for viewers using ad blockers

Wikia is not accessible if you've made further modifications. Remove the custom ad blocker rule(s) and the page will load as expected.