The Treasures of The Louvre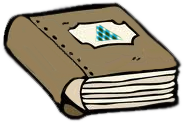 The Treasures of The Louvre is a book in the RP. It is in the Boudeaux Mansion. It is found in the library by Phantom R, who takes a large interest in it. In hope that he won't steal anything, Iona takes the book away from him, but becomes engrossed in it herself.
The book is thrown to lots of different people, as many people want to read it and others don't want them to.
Ad blocker interference detected!
Wikia is a free-to-use site that makes money from advertising. We have a modified experience for viewers using ad blockers

Wikia is not accessible if you've made further modifications. Remove the custom ad blocker rule(s) and the page will load as expected.